About the Founder Trustee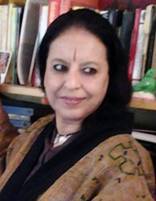 Madhu Khanna, is an author, scholar of Indic studies, cultural researcher, a truth seeker and a scholar-activist. At present she is Tagore National Fellow at the National Museum, New Delhi. Until recently, she was the Director of the Centre for the Study of Comparative Religions and Civilizations, Jamia Millia Islamia, New, Delhi, where she has taught courses in Hindu Studies and cross-cultural studies in the areas of Religion & Gender, Religion & Ecology and Religion & The Arts. She has been Bina and Haridas Choudhury Distinguished Fellow (2013-14) in Asian and Comparative studies at the California Institute of Integral Studies, San Francisco.

She received her doctoral degree from Oxford University, from the Faculty of Oriental Studies. She has authored / edited seven books which have been translated into German, French, Italian, Dutch and Korean.

She is the founding member and Chairperson of Shri Kunja, A Rural Centre for Eco-heritage and Green Consciousness located in Bamunara Village in Burdwan District, West Bengal.

Described by the Sunday Times Magazine, London, (13th July 1997: p.40) as 'the respectable public face of modern Tantra'. She has delivered lectures in America, Canada, Europe, Japan, Thailand, Indonesia and Australia at various universities and public forums. Her works and lectures have brought to light the authentic interpretation of our cultural heritage and tradition. Her work has contributed greatly to build bridges between traditional knowledge and its contemporary adaptations in the modern times.

She is the Founding Trustee of Tantra Foundation, New Delhi and the Centre for Indic and Agamic Studies in Asia (CIASA), the academic wing of the Tantra Foundation. She has recently been nominated to the Academic Council of Nalanda University, India.
© Prof. Madhu Khanna
khanna_madhu@yahoo.com